Product Description
Rubber tracks for Agricultural Machinery(Maize Cutting Machine, Threshing Combine Harvester, Farm Tilling Machine) have the advantage of small vibration, lower noise; Rubber tracks for agricultural machinery have the advantage of lighter weight, faster speed; Rubber tracks for agricultural machinery have the advantage of better grip, stronger traction, more area to land, better anti-slip properties, and less ground pressure, stronger performance.
The cutting platform is equipped at the front of the body, which makes inclining T-shape with the threshing body, is applied to cutting and delivering. Hydraulic controlled lifting of the cutting platform and reel enable the operation more reliable. The threshing and cleaning which includes threshing, separating, cleaning and delivering mechanism etc. is applied to threshing, separating, cleaning and delivering the seeds to the storage box, with the terms in strips and chaffed spread to the ground. The 98hp engine is located at under the driver`s seat, which offers the drive forces for the walking, hydraulic system and the working mechanism. Chassis and the walking part are the special self-propelled mechanism, which include front and the rear axle, drive wheels, transmission, and the steering wheels.The cabin includes the operating mechanism and the instrument system which is for the operating and monitoring the working system.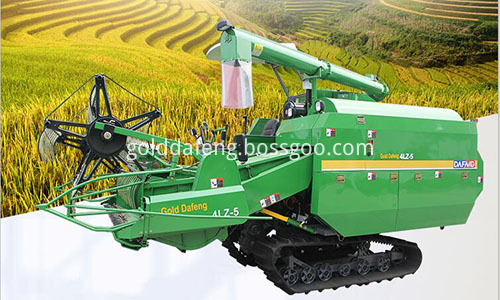 01. hydraulic stepless transmission
Walking system adopts HST, convenient operating.
02. Full-feeding Rice Combine Harvester Chassis
Max. Ground clearance is 330mm, which can improve the balance and pass ability.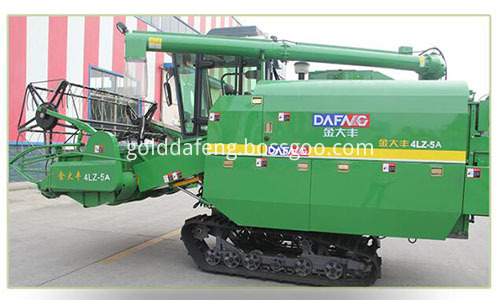 03. Self-propelled Rice Harvester Unloading device
Unloading device up to 3.6 meters, 360 degree high hydraulic rotary ,which can meet the unloading demand limit.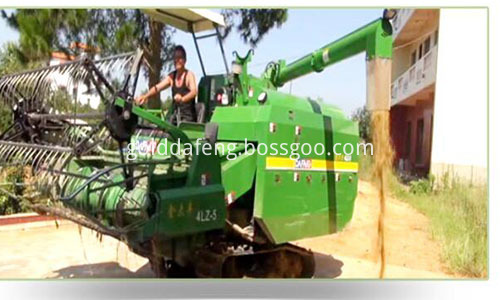 04. Self-propelled Wheat/Rice HarvesterControl system
The control system is optimized, the platform lifting and the left and right turn by same system has been realized.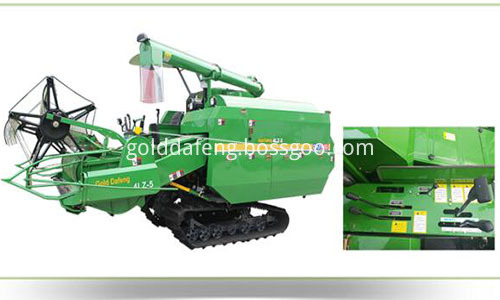 05. Cab
Ergonomics optimization design, a new shape luxury air-conditioned cab, through dust-proof, shock absorption, noise reduction, more comfortable driving.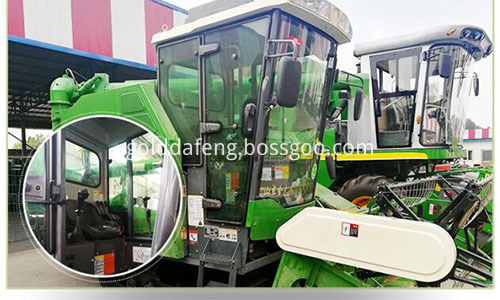 Harvesting machine product Line: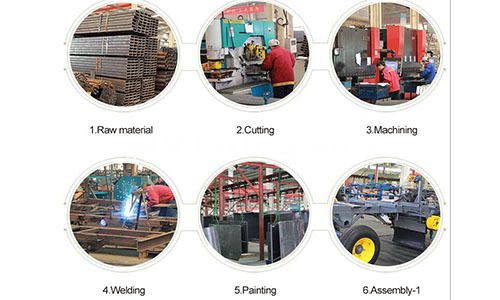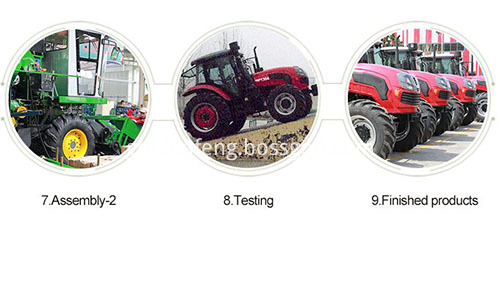 After-sales service
1.Warranty
Gold Dafeng grants our clients twelve-month-period warranty for any machine purchased from us which could reach the certain target quantity. During the warranty period, in case the defect of material or workmanship has occurred with Spare Parts in normal operation, the defective part will be repaired or replaced free of charge, at our discretion.
2.Spare parts
Gold Dafeng is dedicated to provide our clients with genuine spare parts with the highest quality, exact fitness and appropriate function. With our global distributor network, you are guaranteed with fast delivered and services, wherever you are, please submit your spare parts request to us, and list products name, model, equipment serial number, description of required parts. We guarantee that your request will be handled quickly and appropriately.
3.Installation&Maintenance
Gold Dafeng is able to provide you with the overall installation of complicated machinery and equipment, allowing you to start the normal operation of handling machinery immediately. After installation, we will make inspection of the whole machine, operate equipment, and provide you with testing data reports of installation and operation.
4.Training
Gold Dafeng offer perfect facilities and comfortable environment and can provide training service to different users. The training sessions include product training, operation training, maintenance know-how, technical know-how training, standards, laws and regulations training and other training, all of which are tailored to fulfill your individual needs. Training programs can be conducted in our factory field, or at the client`s site.
5.technical advice
Gold Dafeng can also help clients coordinate with trained service personnel to provide you detailed and extensive knowledge about your specific machine. With our technical advice, your machine service life can be significantly prolonged and sustained with high capacity.